Win a Custom Left Hand Snowboard Designed By Carly Igoe!
Posted: September 30, 2021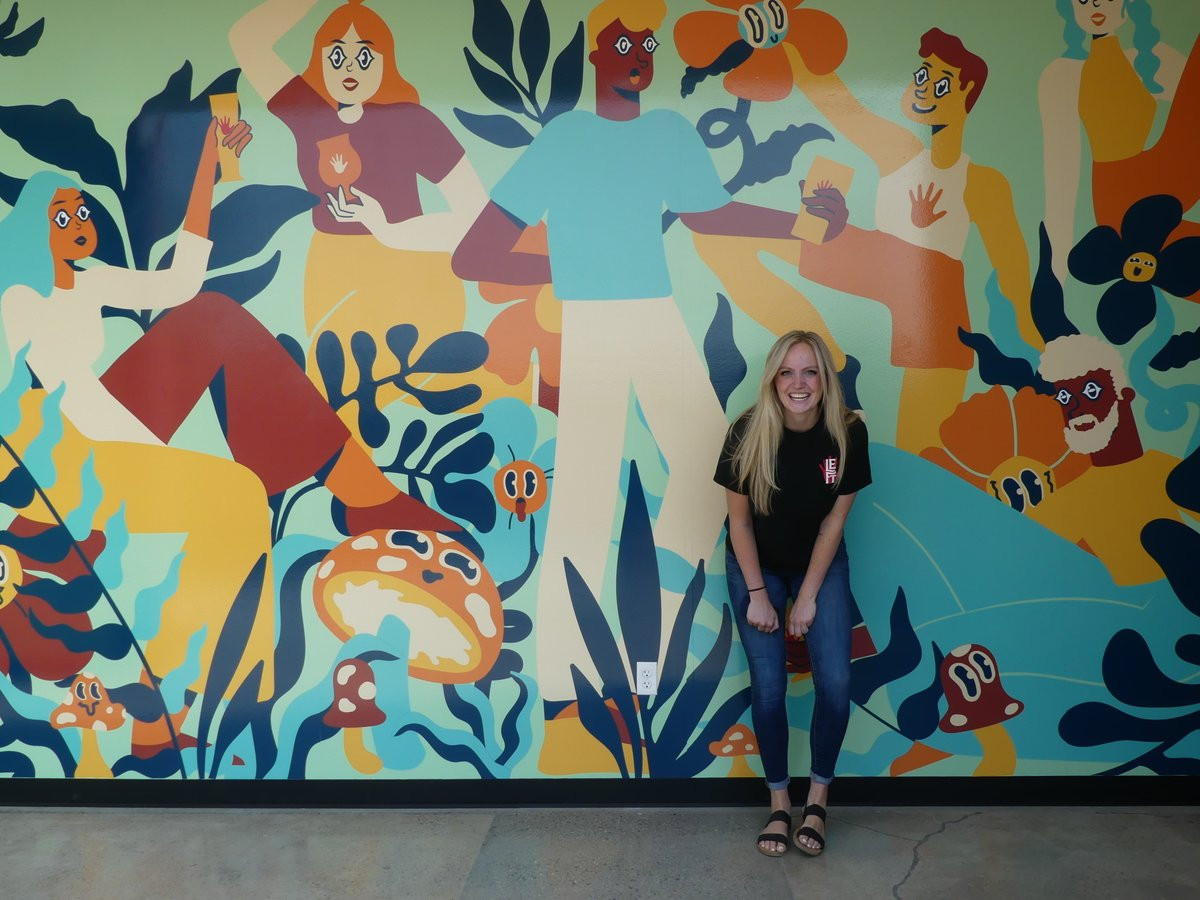 Last year, Carly Igoe designed a set of custom Left Hand skis and four of you lucky Lefties got to rock her artwork on the slopes. As our Graphic Designer here at Left Hand, Carly plays a vital role in can and bottle designs, bringing artistic life to our beer on the shelf. (She also designed our new mural in The Garden pictured above!) Her artistic talent, combined with a love of and history with skiing, made her the perfect person to design our Artist Series.

This year, she's cranking up the volume with a custom Meier snowboard! "Snowboarding is an energetic and creative thing in itself so the board needed to match that energy," she said. "I wanted the boards to excite people and be so much more than a branded sweepstakes prize."
The style and theme of the illustration is a clever departure from the skis. As part of this Artist Series, Carly wanted to explore her favorites artistic leanings in new ways. "Both projects have an energetic, whimsical feel, but in completely different ways. The snowboard is almost like a comic strip with something different and bit a bit strange in each box. There's more edge to the artwork on the snowboards as well." She did sneak in a tie to both projects, however! If you look carefully, you can spot her mushroom character weaving its way into both projects.
Carly's surreal artwork style on these snowboards mixes in modern illustration. She's called the piece The Dripper. "There's something so bold and graphic about this snowboard that really intrigues me. I love to draw things that are unexpected and borderline uncomfortable. I got to play with that a lot here. I also really love the color pallet of the snowboard. I see something striking about only using a few colors throughout.
"We asked Carly which has been her favorite project. As an avid skier herself, we thought that's where her heart would lie. She surprised us! "I think the snowboard is my favorite one. The pickle is something I always drew throughout college and it was the first real character design I've created. I've always wanted to use him for a project, and choosing this project to do so shows how much it speaks to me. Although, my favorite character on the board just might be the alligator with socks."
This season, Carly will be out in the Colorado mountains cutting fresh powder with her designs. "It's always been my dream to design skis and snowboards and I can't wait to keep the artist series going. I am so proud to be able to share a passion of mine with others who love the sport."
These Artist Series Left Hand snowboards are almost ready for four lucky fans to win and call their own! We can't wait to see who wins! Enter for your chance to win, Lefties. Accepting entries 10/1/2021 - 12/31/2021.