The Lefty Way
Left Hand Brewing strives to be an environmentally conscious company, committed to our long-term impact and reducing our carbon footprint, paired with educating our team on the importance of sustainable growth.
Left Hand's sustainability efforts are fluid and continuous, as we explore new ways to conserve resources over the growth of our brewery. Over the years, we've established best practices to continue to offset our expanding footprint including utilizing flash steam recovery during brewing to save energy, exploring process changes on cleaning to save water, and allocating our largest waste stream- spent grain, to a local cattle farm.
When it comes to beer's #1 ingredient - water, we're in the 25% for beer industry consumption! We are always interested in learning about new studies and how we can improve. Shoot us an email if you have something to say!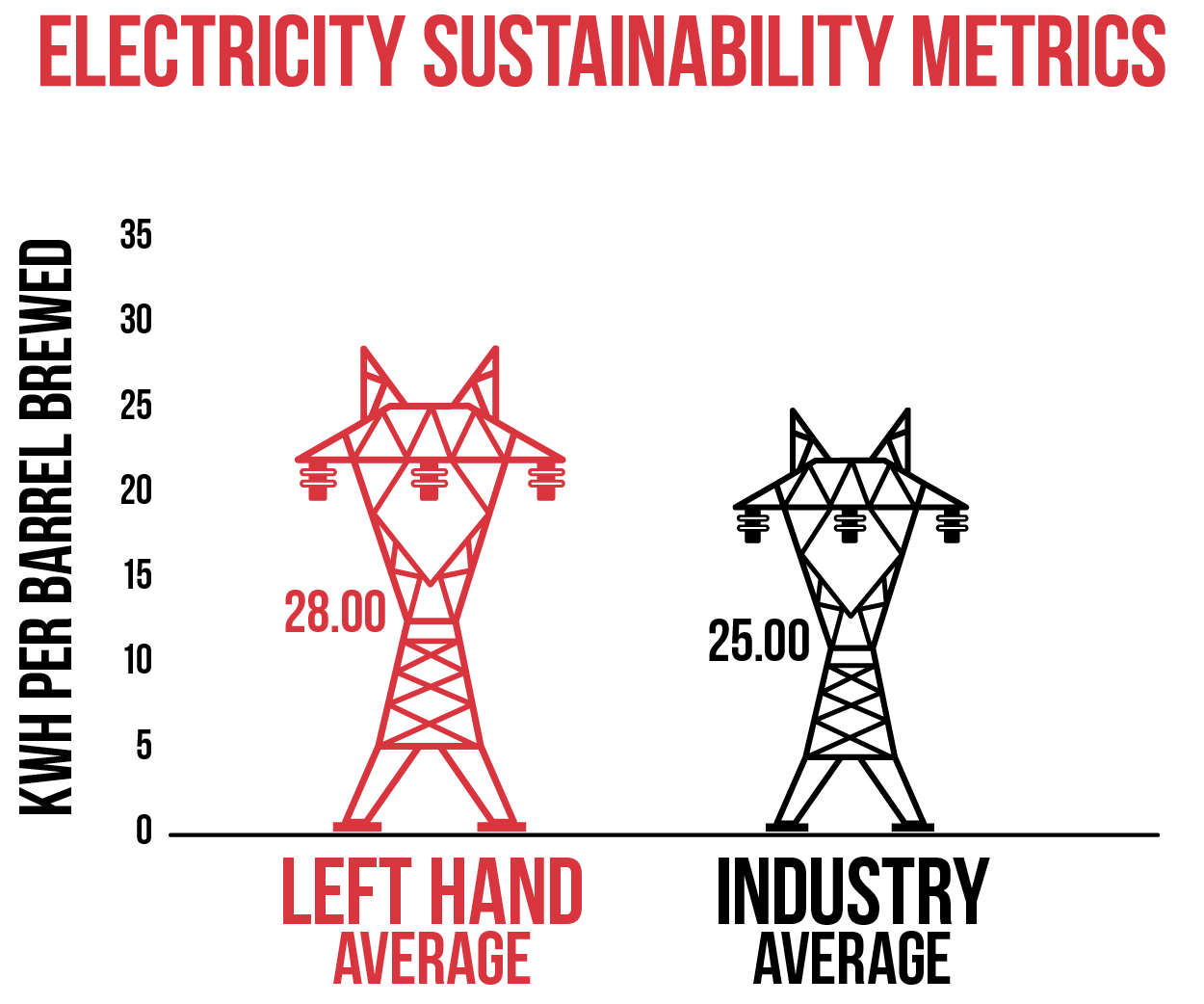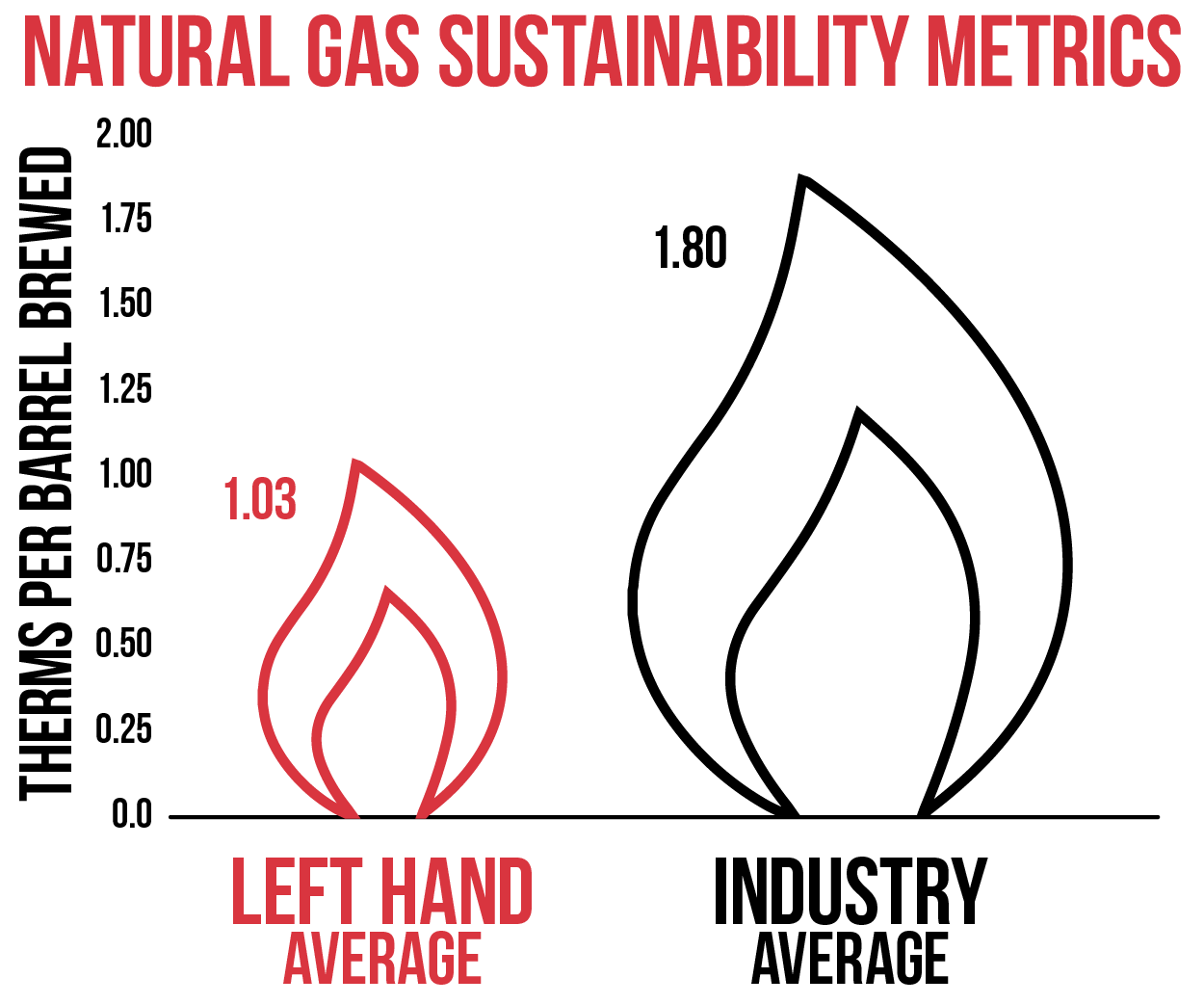 Energy
Left Hand has made significant investments in energy conservation efforts for both electricity and natural gas:
Braukon Kettle: Added to the brewhouse in 2011, this kettle is incredibly efficient. Utilizing an internal collandria, the kettle uses less than half the gas consumption of our previous kettle, and allows us to reduce our steam, hops, and boil time.
PV panels: In 2006, Left Hand installed a 4.8 kW photovoltaic solar array which helps reduce our overall energy cost each year.
Light Fixtures: The majority of all incandescent light bulbs in the Left Hand facility have been switched out to compact fluorescents (CFLs), while the rest are slated to be replaced as soon as they burn out. In addition, we're continuing to add motion sensors around the facility so that we're only using lighting when it's needed.
Left Hand is continuously doing energy studies, and we are working to implement the appropriate strategies suggested as they fit with our growth. In the most recent data collection, the Brewers Association has shown that the industry average for craft breweries of Left Hand's size (5,000-100,000 barrels per year) is 22 kWh/bbl. Left Hand continues to reduce our average usage, and is consistent with the industry average.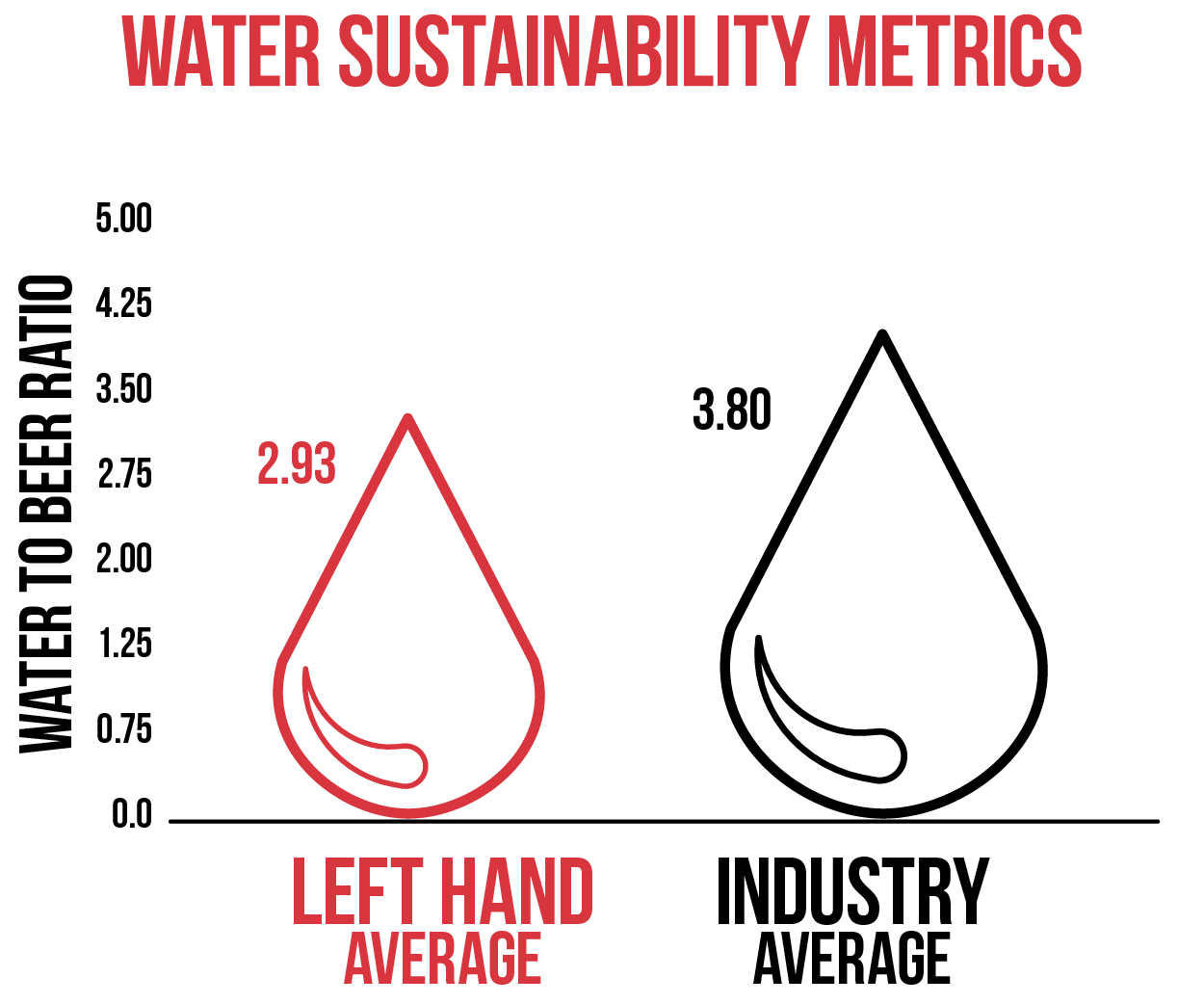 Water
Water is one of the most heavily relied-upon resources in the brewing process; in fact, it's the #1 ingredient in beer! The Brewers Association lists an average water per barrel usage for craft breweries of Left Hand's size at 2.93 barrels of water used per barrel of beer. In spite of the extensive growth in production the brewery has seen over the past several years, we've been able to stay below the U.S. average, and currently utilizing just over 4 bbls/bbl.
Through water-saving initiatives such as the Clean-In-Place (CIP) system, more efficient brewing equipment, and overall best practices by our employees, we've been able to continue reducing our water-to-beer ratio over the years. We hope to continue this trend with more water-conscious efforts throughout the brewery.
Waste
In producing our beer there are a number of waste streams, and we are working to minimize the amount of material going to the landfill. Spent grain is our largest waste stream, and goes to a local farmer as feed for cattle.
Left Hand is currently recycling all of the items allowable in the single stream process. Some of these items include:
Large quantities of old corrugated cardboard
Stretch wrap (line low density polyethylene, LLDPE) used for packaging
Green strapping (polyethylene terephthalate) from glass pallets
Paper ingredient bags
Since spent grain is such a large and consistent part of our diverted waste, we have omitted it from the following chart depicting our monthly waste stream.