Try Beers From These Breweries at Nitro Fest
Posted: December 15, 2022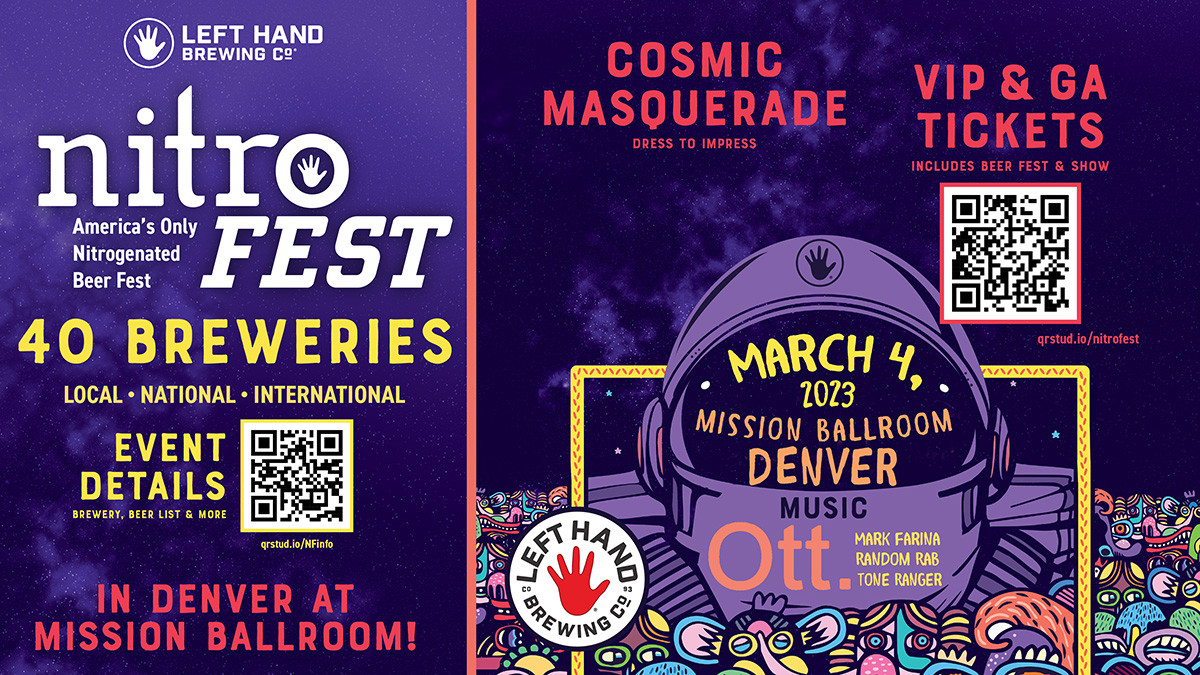 The biggest international celebration of Nitro beer in the galaxy is coming to the Mission Ballroom in 2023, followed by an interstellar musical performance by world-renowned musician and record producer, Ott.
Nitro Fest is an out-of-this world, nitro-exclusive beer festival featuring an invite-only list of acclaimed U.S. and international breweries. As always, Nitro Fest is a themed and costumed affair. Expected dress is Cosmic Masquerade, so guests are encouraged to dress to impress in their finest space and alien garb.
Ott, in addition to performances by Mark Farina, Random Rab and Tone Ranger, extracts dreamy, otherworldly sounds from the universe and packages them into an unapologetically electric performance. Ott's psychedelic vibes will send you floating through time and space.
Tickets include General Admission and VIP ticket packages from $85 to $150. https://www.axs.com/events/451224/ott-tickets
Here is the full list of participating breweries:
1. LAB Split Craft Brewery: Croatia
2. Reketye Brewing Co: Hungary
3. Peñon del Águila: Argentina
4. Magpie Brewing Co: Korea
5. Porterhouse Brewing Company: Ireland
6. Smidjan Brugghus: Iceland
7. Wicklow Wolf: Ireland
8. Heist Brew Co: Sheffield, UK
9. Pasteur Street Brewing Co: Vietnam
10. Anspach & Hobday: London, UK
11. Huss Brewing Co: Phoenix, AZ
12. Maui Brewing Co: Kihei, HI
13. Modern Times Beer: San Diego, CA
14. Begyle Brewing: Chicago, IL
15. Wren House Brewing: Phoenix, AZ
16. Columbus Brewing Company: Columbus, OH
17. Highland Brewing: Asheville, NC
18. Joyride Brewing Company: Edgewater, CO
19. Bootstrap Brewing Company: Longmont, CO
20. Weldworks Brewery: Greeley, CO
21. Dry Dock Brewing Co: Aurora, CO
22. Cerebral Brewing: Denver, CO
23. Great Divide Brewing Company: Denver, CO
24. SKA Brewing Company: Durango, CO
25. Main Stage Brewing: Lyons, CO
26. 4 Noses Brewing Company: Broomfield, CO
27. Odd 13 Brewing: Lafayette, CO
28. Vicious Cycle Brewing: Fraser, CO
29. Upslope Brewing Company: Boulder, CO
30. Mockery Brewing Co: Denver, CO