Nitro Fest Returns to Left Hand Brewing November 9th
Posted: October 17, 2019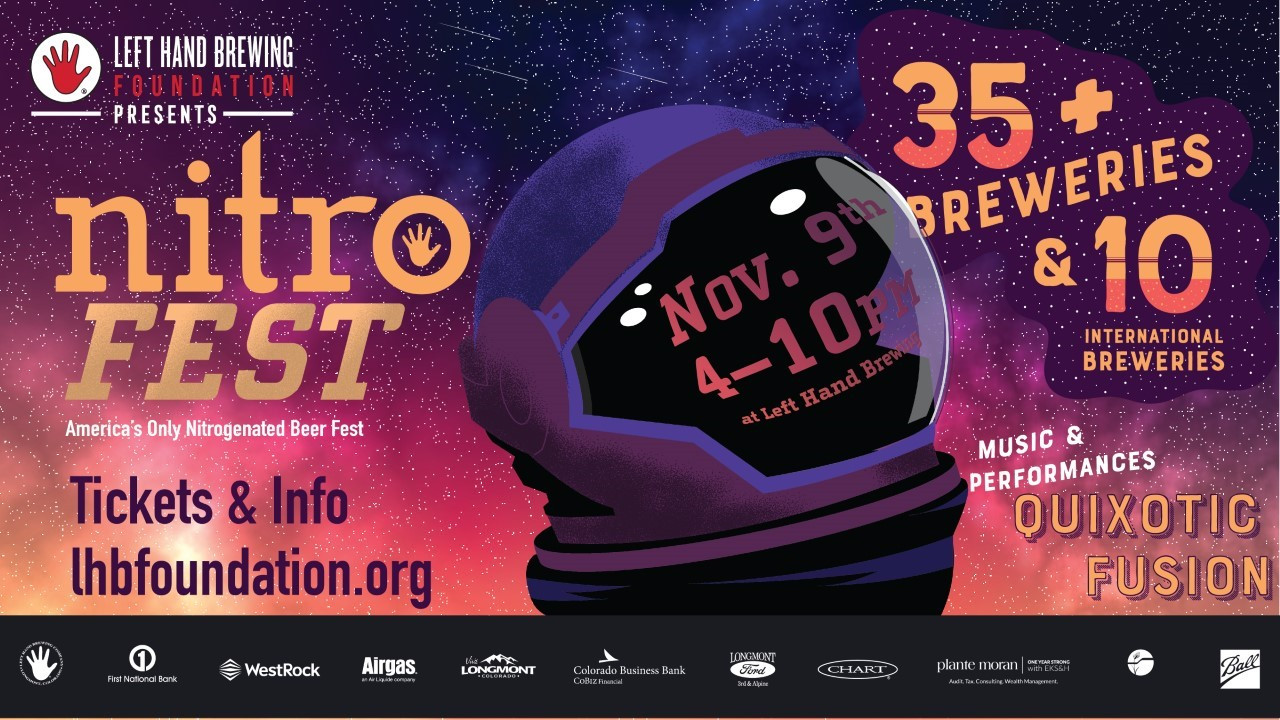 LONGMONT, Colo., Oct. 17, 2019 – Experience nitro beer from around the world at a beer festival that is truly out of this world. On Saturday, Nov. 9 from 4-10pm, the Left Hand Brewing Foundation is proud to present the 6th annual Nitro Fest. The only nitro-exclusive beer festival in the world, Nitro Fest features rebelliously rare beers poured by an invite-only list of acclaimed international and U.S. breweries. All proceeds of Nitro Fest will benefit the Left Hand Brewing Foundation.
Hosted in a 14,000 square-foot heated tent across the street from Left Hand Brewing, Nitro Fest is a heavily themed and costumed affair. Expected dress is Cosmic Formal Masquerade and guests will be treated to a star-studded evening full of unforgettable experiences while sampling other-worldly beers poured exclusively on nitro. Nitro beers are carbonated with nitrogen instead of CO2, resulting in a lightly carbonated beer with a creamy texture for a very smooth, velvety experience.
This year the Left Hand Brewing Foundation is proud to welcome 10 breweries from outside the U.S. to Longmont, Colorado. Ireland, Hungary, Austria, Portugal, China, Croatia, Norway, South Korea, Iceland, and Russia will all have representation at the festival. In addition, more than 35 independent craft breweries from across the U.S. were asked to participate in Nitro Fest by invitation only. Not only will they be pouring their finest nitro beers but these elite breweries will also be bringing special collaborations and one-off creations that will only ever be available at Nitro Fest.
"We were on the hunt for the best nitro beers and recipe creativity out there. As a truly one-of-a-kind beer festival, we wanted to ensure we brought in beer that will be completely unique to the event," said Eric Kean, Event Manager for the Left Hand Brewing Foundation. "Some of our international invitees have no distribution in the States, so our line-up of nitro brews will include tastings from breweries that most attendees will only ever experience here."
Leaders in nitro innovation and experience, Left Hand will be sharing its full nitro line-up with festival goers, including popular seasonals Chai Milk Stout Nitro and White Russian Nitro. In addition, Left Hand brewers are creating special recipes just on tap for Nitro Fest.
In addition to more than 65 unique beers, Nitro Fest will also feature national touring artists Quixotic Fusion. Quixotic Fusion is an innovative performance art collective that fuses imagination with technology, dance, projection mapping, and live music to create a fully immersive, multi-sensory experience. Harnessing light, rhythm and expressive emotion, the troupe will be completely tailoring their performance to Nitro Fest 2019's Cosmic Masquerade theme. It will be a completely one-of-a-kind theatrical and musical event!
Tickets are on sale now at www.nitrofestbeer.com including General Admission and VIP ticket packages. VIP tickets include one hour of early access to the event, access to the VIP lounge, free VIP-only food, and private heated restrooms.
About Left Hand Brewing Foundation
Founded in 2016 to support Left Hand Brewing Company's charitable giving, the Left Hand Brewing Foundation (LHBF) is committed to brewing a stronger community where we work, live, and play. The LHBF supports primary needs, community support groups, arts and cultural activities, housing projects, medical research and responds to issues and emergencies in the Longmont community and beyond. All event proceeds, sponsorship revenue, and donations from Left Hand Brewing Foundation events benefit the LHBF and its beneficiaries. To learn more, please visit www.lhbfoundation.org.
About Left Hand Brewing Company
Left Hand Brewing Company, founded in Longmont, Colorado, is one of the original pioneers in craft brewing. From a humble homebrew kit beginning to becoming one of the top 50 craft breweries in the U.S., Left Hand has continued to grow and innovate throughout our 26-year history. Famous for our nitro series, Left Hand launched America's original nitro bottle with our flagship Milk Stout Nitro and the first production run of U.S.-made nitro widget cans. We're proud to be one of the most honored and recognized breweries in Colorado with 29 Great American Beer Festival medals,11 World Beer Cup awards, and 9 European Beer Star awards. Our collection of perennial and seasonal beers are available in 43 states, DC and internationally. To learn more, please visit www.lefthandbrewing.com.