Introducing Sinister Malt Whiskey
Posted: April 23, 2021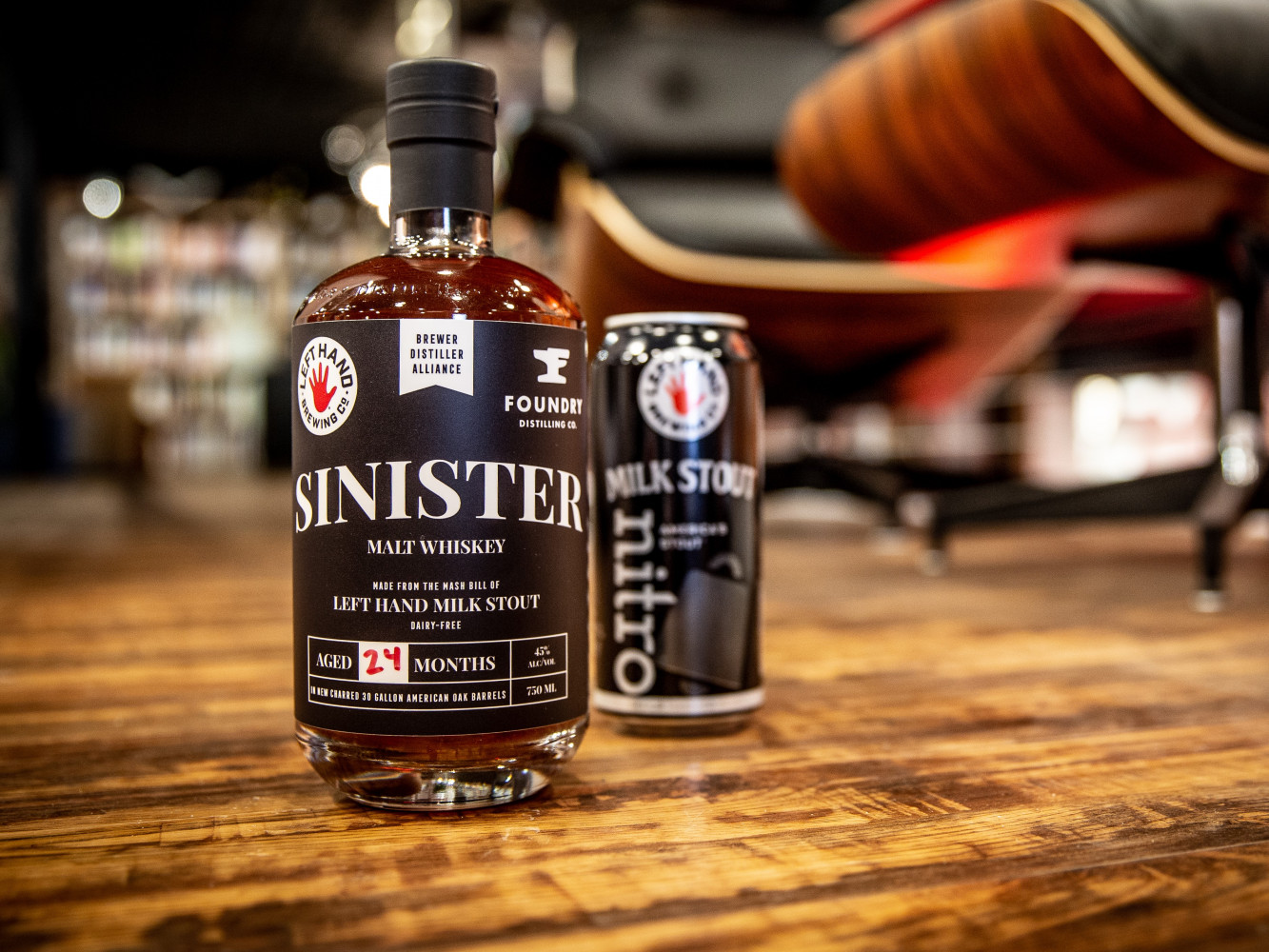 ***(Looking for Sinister? Click here for our location list.)
Think about your favorite beer. Its enticing aromas, luscious flavors, and the smile-inducing pleasure of the first perfect sip. Now, imagine that beer as a whiskey . . .
We're excited to announce a unique new libation: Sinister Malt Whiskey. The first in a spirited partnership between us and Foundry Distilling Company, this devilishly delicious distillate has been years in the making. This May it is finally ready to be unleashed.
Back in 2019, Foundry Distilling began seeking out partnerships with breweries creating their favorite beers with a goal to translate those beers into whiskey. Owner and Founder Scott Bush knew that one of the first places he wanted to start was with Milk Stout Nitro. Scott told us, "Your Milk Stout is one of the most lauded beers in the industry and we're very intrigued to see what kind of flavors we can produce by making a whiskey from this mash." The man behind Templeton Rye Whiskey wanted to do something special with Milk Stout Nitro. Needless to say, we were intrigued, too!
So, we promptly began a batch of Milk Stout, creating a sweet liquid infusion from this beer's grain bill of roasted malts. Before we added lactose or began the process of fermentation, we transported this dark liquid from Colorado to Iowa to pursue a devious new path. Foundry Distilling carefully fermented and distilled it. And now, after two long years of bidding its time in charred oak barrels, this small batch is ready to be released!
Enter into temptation with Sinister's aromas of honey, apricot, and caramel. Entice your palate with flavors of chocolate, fig, and crème brûlée. This 95-proof spirit finishes with a subtle sweetness balanced by peppery and woody notes. Pour yourself a glass alongside a pint of Milk Stout Nitro. It's incredible that we can now drink two very distinct and luxurious beverages that started off as the same liquid!
"Our Milk Stout Nitro is renowned for a super smooth mouthfeel that delights the palate with notes of milk chocolate, roasted coffee, brown sugar, and vanilla cream," said our own Jeff Joslin, Director of Brewing Operations. "Taking that same grain bill and transforming the recipe for a world-class beer into a world-class whiskey was a satisfying experience. Notes of chocolate and vanilla still prevail, and the wood aging added a delicate yet complex array of dried fruits and caramelization with just a hint of spice."
Ready to get your hands on one (or several) of these limited bottles? Sinister Malt Whiskey releases this May in Colorado, Iowa, and select markets.** The official release event will take place on Saturday, May 1st from 4:00-7:00pm at Foundry Distilling in Historic Valley Junction. Coinciding with a Kentucky Derby watch party, Sinister Malt Whiskey can be enjoyed on its own and will also be featured in a selection of iconic cocktails inspired by the Kentucky Derby. Get to our soiree early! The first 100 attendees will receive a complimentary Sinister Malt Whiskey rocks glass to savor this spirit in style.
Pro tip: If you live in Iowa and want to make sure you get as many cases as you want, pre-orders of Sinister Malt Whiskey can be placed here for pickup at Foundry Distilling in West Des Moines.
Though this is our first release with Foundry Distilling, there is even more whiskey on the way! Sinister Malt Whiskey will be followed by whiskey variations of Galactic Cowboy Imperial Stout, 6-time Great American Beer Festival medal winner, Sawtooth Amber Ale, and our multi-award-winning Fade to Black Foreign Export Stout. The fun, Lefties, has only just begun.
**At this time, due to our liquor licensing, we are not able to sell or serve Sinister Malt Whiskey in our Longmont Tasting Room. We are working to change this soon!