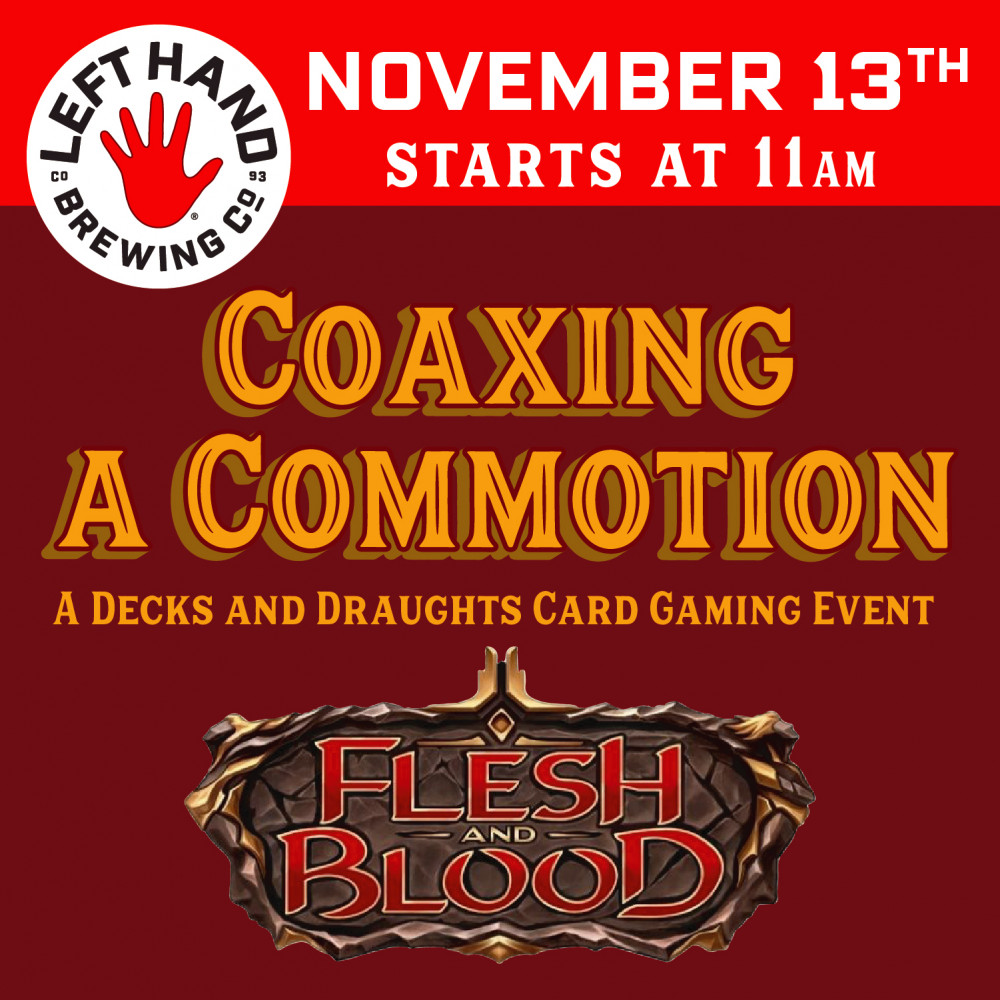 Coaxing a Commotion: A Decks and Draughts Card Gaming Event
November 13th | 12:00pm-8:30pm MT
November 13th | 12pm-8:30pm MT
Left Hand Tasting Room
1265 Boston Ave
Longmont, CO 80501
Decks and Draughts is proud to present a very unique Flesh and Blood TCG event: Coaxing a Commotion! We're taking over Left Hand Brewing Company and celebrating this amazing game in the "flesh and blood!"
If you've never played Flesh and Blood before, you're invited to join us and try it out for free!
Pricing (these costs help with prize support):
FREE:

No prize support access, but join us! Hang out, play, trade, learn!

$25

Full day, access to all the things

$10

Armory only. This will let you be eligible only for prize support given in the armory.
Events:
12pm: Official Armory Event - Blitz Format - 32 player cap
All day (not run through GEM):
- Pop-up 8-man Blitz Events
- Pop-up 8-man CC Events
- Pop-up 4-man Ultimate Pit Fight
- Pop-up 4-man PvE
- Free Learn to Play Tables for new players and curious passersby (decks included!)
Prizes (so far!):
Oldhim Armory Kit (may change)
CF Crazy Brew
Official Coax a Commotion CRU Playmat
KitchenTable TCG Coax-inspired Playmats
1st Edition Tales of Aria packs
Decks and Draughts Merch
Free Beer
Lord only knows what else!
Participating in events throughout the day will award prizes for winners and/or enter you into raffles for prize support. The Coax a Commotion Playmat will be raffled off, the CF Crazy Brew will go to the winner of the Armory Event. Because we want people to try Ultimate Pit Fight, prize support and raffle slots will be doubled for that format!
All registered participants will receive 2 Coax A Commotions that MUST go in your deck! They will be randomly drawn as we have foils, 1st edition, and 1st edition foils of it mixed in. 🙂 There will be special prizes based on how you use Coax A Commotion throughout the day!
Special thanks to Heart of Gold Games, Fabled Collections, Mana Vault Games, Smetch Rat Games, and BlessCards for donating time, energy, and prize support!